Generate enough content ideas for a month of blog posts in just half an hour. The secret is mastering the brainstorming method and creating original content ideas for your blog posts. This article will provide helpful instructions on how to get started with this practice so that you and your team can turn creative concepts into exciting posts.
How to unlock the power of creative brainstorming to generate innovative ideas and standout content.

How to utilize tools, techniques, and resources to save time & create unique content that resonates with your audience.

How to measure success & iterate processes for continuous improvement in creativity for better results!
The Power of Creative Brainstorming
Creative thinking is crucial to creating a content campaign or blog post that maximizes its potential and captures your audience's attention. With an experienced content marketing team that embraces the creative mindset, your team can write blog posts that outshine your competition.
Brainstorming is essential to a successful content marketing strategy as it encourages creative thinking about solutions and ideas that have the potential to propel your organization's objectives. One idea can ignite another, leading to enthusiasm for content creation. Combining individual thought with collective insights can produce a blog post with more unique insights, adding to the quiver of a comprehensive content marketing plan.
Team brainstorming also helps refine initial ideas from solo sessions while inspiring fresh thinking — a crucial component in constructing a more efficient strategy. It also provides content marketers with a wealth of ideas and opportunities for teams to connect on new concepts while generating innovative approaches to crafting new material.
During these 30-minute sessions, teams should focus on brainstorming content ideas around one specific topic – this can help your entire content marketing team develop several fresh concepts in an abbreviated timeframe while getting their 'creative juices flowing' and ultimately leading to better ideas and more organic search traffic for your brand.
Preparing your Team for Ideation
Before your team starts ideating, your team should first understand your company — this way, you can encourage rapid ideation when your team starts the ideating process. The best way to do this is via a SWOT analysis.
A SWOT analysis is a framework used to assess a business's internal and external landscape. The acronym stands for Strengths, Weaknesses, Opportunities, and Threats. It offers a comprehensive view of the factors that can impact your business's success or challenges, both from within and from the larger market environment.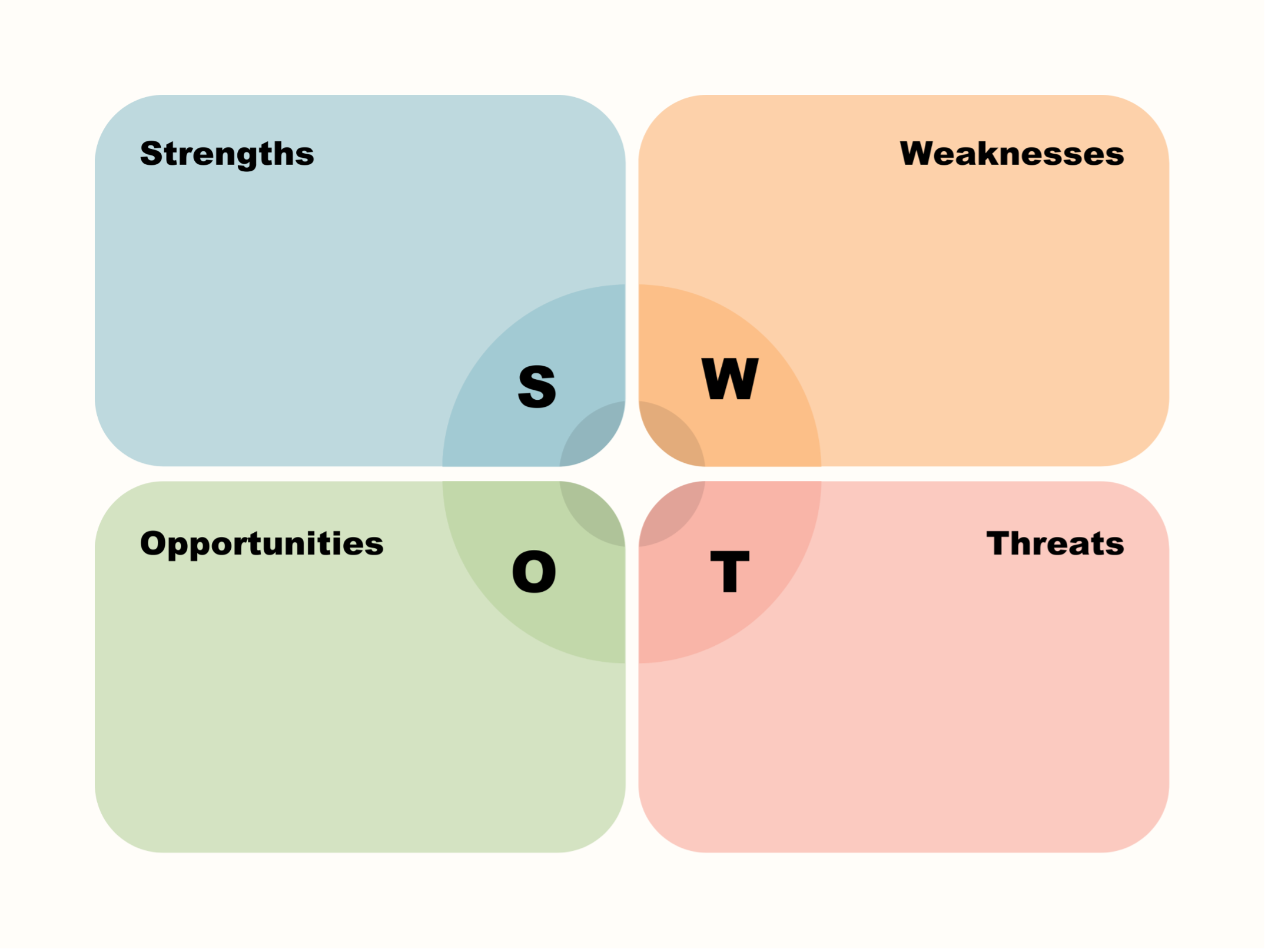 Strengths: These are the positive attributes, tangible and intangible, internal to your organization. They are within your control. Examples: Strong brand recognition, skilled workforce, proprietary technology, and financial resources.

Weaknesses: These aspects are within your control but detract from your ability to attain the core goal. These are areas you need to enhance to compete with your best competitor. Examples: Limited financial resources, poor brand recognition, outdated technology, and weak distribution network.

Opportunities: These are external chances to make more significant sales or profits in the environment. Examples: A developing market, a competitor going out of business, or a global trend.

Threats: These external environmental elements could cause trouble for the business or project. Examples: New regulations, increased competition, economic downturn, negative press.
Map these elements out on a chart, and ensure your entire team understands and processes these elements of your business. In performing a SWOT, honesty is paramount; overestimating strengths or downplaying weaknesses can skew the analysis. Aim for clarity and specificity, avoiding vague or generalized statements. Since the business world is dynamic, you must revisit and update your SWOT analysis periodically, ensuring you're always aligned with the current landscape and prepared for the future.
Tapping into Customer Insights for Content Ideas
Now that you understand your business, to craft content that truly resonates with customers, you must first understand them. Customer feedback and social listening tools can provide valuable insights into your target audience. This information can help shape personas tailored to their pain points, needs, and wants, making the content more appealing.
Customer Feedback Surveys
Customer feedback is a valuable source of information for creativity. Collecting and examining responses can uncover frequent difficulties, likes, and wishes from your target demographic. You can then leverage this data to develop comprehensive audience personas. It can also inform your strategy when designing and creating content that precisely meets those individual needs, catering to each segment.
Social media monitoring and tracking mentions related to your business or field can effectively spark ideation. Tools like Hootsuite, Sprout Social, and BuzzSumo help you seize the power of what other people are saying to advance your content marketing campaigns. Through these tools, one can pick up on popular conversations and trending topics to stay current with industry news to help produce material that resonates with your customers, readers, and followers. By exploring fresh content ideas through these tools, you open yourself to developing more ideas and creating more meaningful information explicitly tailored to your audience.
How to Use Keyword Research Tools Effectively for Brainstorming Sessions
Combined with customer feedback, various keyword research tools and competitor assessment frameworks exist to enable you to discover as many headlines and content ideas as possible. Tools for this purpose include Google Keyword Planner (free), SEMRush, Ahrefs, and Moz Keyword Explorer.
These tools can help you find keywords related to your business and see how they might perform. You can use it to see search volume and traffic estimates for keywords you're considering, helping you choose keywords relevant to your audience.
Competitor Analysis for Content Inspiration
Gleaning valuable information from competitors' content and industry trends and overlaying what you learn in your SWOT analysis is critical to successful content ideation. It allows you to detect opportunities to generate content ideas to fill gaps in your target audience's needs. This strategic approach gives the competitive edge, allowing businesses to consistently create content with a dynamic strategy that caters to their target audience's interests.
Additionally, analyzing competitors' strategies provides practical inspiration when curating or designing new content concepts. Doing this helps ensure relevance within fresh topics and build meaningful connections with followers over time.
Analyzing top-performing content
Keeping abreast of what others are doing ensures that yours always remains advanced and original throughout the creative process.
By doing audience research on content competitors and examining what is popular, trending topics, successful formats, and strategies for engaging viewers, you can generate new ideas for developing content or explore different perspectives on existing ones.
Detecting gaps within the content marketing world is essential to strengthen the content strategy and make your content stand out in a competitive field. Studying other companies' material and industry trends allows you to produce content filled with valuable information for your target audience.
Building a Conducive Environment for Ideation
Now that you know enough about your company and industry, creating an environment supporting rapid creativity is fundamental to creating innovative and impactful content. Promoting open dialogue while laying out exact objectives guarantees that everyone in the team shares a shared mission. This structure keeps brainstorms effective and encourages unconstrained expression of concepts so that your team can suggest as many ideas as possible!
Firstly, Set Clear Objectives
For successful ideation, having definite goals that refer to your SWOT analysis is essential. Planning what outcomes you expect to achieve with all your ideas, resources, and time frame helps ensure that everything corresponds to your strategy. This factor can also give any business an advantage over its direct competitors.
Secondly, Encourage Open Communication
There is no right or wrong way to come up with ideas. Encouraging ideas without judgment is essential to ensuring an optimal creative process. By fostering open communication, team members can freely share both their good ideas and bad ideas to generate content that will connect with your desired audience.
How to Use Tools for Content Ideation
A group brainstorming method efficiently produces and refines inventive ideas. You can access your team's shared knowledge through round-robin activities and collective dialogue, enabling creative results that might not arise from single brainstorming meetings.
These approaches promote cooperation, ignite ingenuity, and encourage a more comprehensive environment for thought creation during content ideation processes. This strategy permits all members involved to inspire new ideas within their respective groups, thus Developing an inclusive way of idea formation outside any particular individual's approach or realm of expertise
Round-robin sessions can help ensure equal group input and prevent a single person from influencing a team member's decisions. Each team member shares their thoughts in this meeting, which you then discuss with everyone in attendance.
This shared style encourages all voices to have an opportunity to be heard and encourages more inventive problem-solving within a collective environment.
Group discussions and debates
Group debates, discussions, and conversations can be a practical addition to your idea-generating techniques. Stimulating talks that identify topics and different points of view can help you develop ideas and find prospective solutions for problems while forging a shared understanding of said topics. This leads to more inventive ideas and strengthens your group's problem-solving and analytical abilities.
Technical Tools to Help Brainstorming Sessions
Utilizing various helpful tools and resources can bolster content production and ideation processes. Content idea generators, keyword research tools, and calendar templates are handy for creating unique content ideas quickly while retaining command over their quality level. These items save time while providing more concepts to build on when crafting engaging material.
Using Content Idea Generators
Creating as many headlines as possible helps you create content at scale. These powerful tools can help surface what your readers search for to be repurposed into content ideas.
Platforms, like Answer the Public & Quora, can be used as 'content idea generators' to uncover original suggestions and brainstorm content ideas while keeping up with market trends. Content creation is made easy through such resources as they give various choices when developing exciting ideas related to said keywords and identifying topics.
Tools exist to generate great ideas to help get the most out of a brainstorming session or to organize ideas from your idea generators. Many software programs exist solely to assist with brainstorming and mind-mapping techniques to develop ideas. Some frequently used software for finding ideas for content writing include Coggle, MindMeister, Ayoa, and MindNode. These tools simplify visualizing content concepts while allowing exploration and growth through lateral thinking.
Add an idea as a node, think of all related ideas, and connect them to the mind map. Soon, you'll have an endless map of ideas you can choose from and prioritize.
Leveraging research tools to find trending topics and keywords
Creating content that appeals to your target audience requires staying informed about search engine trends. Popular keyword research tools for search engines like Soovle, Ubersuggest, and BuzzSumo help you uncover growth opportunities and high search volume. At the same time, Ahrefs and SEMRush offer insight into the search volume and what the competition is up to on search engines.
Using these solutions can provide a well-rounded foundation of knowledge from which you can build an effective content strategy – one explicitly designed with success in mind! With all this information, creating targeted pieces and staying ahead of competitors who may miss out on new topics or keywords is possible.
Implementing content calendars for organized ideation
A content calendar like Storipress is an excellent tool for organizing and managing your best ideas. By having columns on the calendar containing details like title, date published, author, etc., you can ensure that all of your thoughts are well-ordered and accessible in one place. Calendars also help schedule deadlines and streamline the process into an enjoyable experience.
By developing frameworks for effectively documenting various components associated with brainstorming ideas and potential topics for blog posts or articles - including titles, publishing dates, and authors – it's possible to systemize any brainstorming session, right or wrong, efficiently. Thus, ideas remain intact without missing important facts or dropping essential information while maintaining the original tone!
P.S., want to learn about other benefits of content calendars? Check out this article here 👇
The Process of a Good Ideation Session
Developing a tailored content ideation process offers the exciting opportunity to create content and improve its efficacy, measurability, and malleability. Setting specific targets and leveraging tools and techniques for efficient brainstorming sessions while incorporating customer data into idea generation can help create an effective workflow that inspires new concepts to drive success in your marketing strategies. Remember to impose a time limit so that the brainstorming session progresses productively.
Benefits of having more dynamic yet enjoyable brainstorms include spurring creativity, heightening collaboration among team members, increasing enthusiasm & involvement with projects, firing up motivation, and Improving solutions by problem-solving, thus contributing towards better production of innovative ideas when it comes to potential content creations!
Developing a process that meets your specific needs and wants offers many advantages, such as greater efficiency, superior quality ideas, improved cooperation among team members regarding providing feedback, and intelligent resource allocation, which can help reach continuous improvement.
You must set measurable objectives for this above purpose and monitor progress on them while considering any opinions from involved parties so that the best procedure is designed precisely for you and your group.
Making your content brainstorming more efficient
Set specific goals to ensure that all your best ideas, even the most creative ones, are explored efficiently and effectively in your process. Establish open communication channels with others to share new concepts and use mind-mapping software when possible. In addition, have some time-limited group brainstorming techniques and sessions. Use customer feedback as a starting point, or look at what content has already been successful online via social listening platforms. Inspect any gaps between topics covered before changing outdated information to a different format.
Measuring the success of your content brainstorming process
By tracking the following metrics, you can gain valuable insights to refine your process: the number of ideas generated, the quality of those ideas, the number implemented, and their impact on business.
Measuring success for continuous improvement and growth requires measuring results from the brainstorming stages. This data-driven feedback will help make smarter decisions, leading to a better overall experience with these endeavors. Your team should evaluate ideas based on their quantity, quality, and influence within an organization. Ultimately, we can only measure the potential success rate of an idea through customer implementation or utilization.
Regularly evaluating and updating your process allows you to identify what works best for you, yielding even more original content ideas. Refining this technique over time will also help sharpen your ideas and your team's creative problem-solving skills. You can constantly boost your innovative thinking abilities by tracking the progress of concept formation and incorporating feedback.
Repurposing and Refreshing Existing Content
If you have existing content, content marketing is ever-changing, so it's essential to repurpose and refresh it.
Updating outdated information
Refreshing content with current data is essential for keeping your information reliable and up-to-date. Doing so will benefit user experience by allowing them to stay engaged with fresh material and help establish trustworthiness, showing that you are a dependable source of facts.
Ensuring accuracy in your content demonstrates credibility, which convinces more visitors to return.
Transforming content formats
Repurposing and revitalizing your blog posts through creative transformations is an excellent way to get more out of your existing content. You can reach a wider audience by presenting the material in different formats, such as infographics, podcasts, videos, or slideshows, providing viewers with engaging ways to interact. You can bring your articles back into focus by updating old information and utilizing these ideas in different formats. This way, you get the most out of current material and engage readers with new ideas within a fresh format. Reviving older pieces allows them to maintain relevance without losing impact on your target audience!
Making your content brainstorming process more fun and creative
The ideation or brainstorming session process can be more enjoyable and productive when collaboration is encouraged. These strategies stimulate creativity among participants in the rapid ideation or brainstorming group discussion phase to develop better ideas and help them tap into their full potential for innovative content creation. Creating a dynamic yet inclusive atmosphere with these ideas helps spark inspiration and ensure you come away with something unique.
Ultimately, it is pivotal to have a grip on the concept brainstorming techniques and processes to develop great ideas for content. Using varied methods, tools, and techniques, you can form an effective action plan to generate ideas, develop content, and create blog posts that capture viewers' attention and promote teamwork during the idea-creating period. Continuing your exploration into this ever-shifting area of content marketing strategy and brainstorming technique, coupled with reevaluating and upgrading your process routinely, will guarantee that quality material remains fresh, which keeps readers engaged.